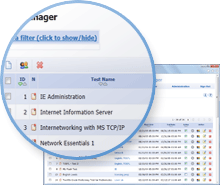 Create your own online tests and quizzes
iGiveTest is a comprehensive solution for creating, administering, and providing thorough analysis of tests on the Internet and Intranet.
It is a quick and professional way to create and organize tests for employees, students, and people in training.

How to Use Questions
Learn how to add questions to your test.

How to Create Random Questions
Learn how to create randomized quizzes.

See the full list of tutorials...
Learn how to use iGiveTest...
You can:
ask any kind of question (true / false, multiple choice, short answer, essay, questions with more than one correct answer), and select questions from any question set at your own choosing;
choose how to mark each question (for example, 2 points for a correct answer, 0.5 points for a partially correct answer, and 0 for an incorrect answer);
format the text, add graphics, formulas, animation, and audio and video files;
set up a style for your tests;
create a bank of questions;
import questions from almost any text documents;
place an introductory text at the start of the test or before any question;
shuffle your questions / answers;
display one question per page or all questions on one page;
define your own grading scale;
create a password to access a test;
assign a test to a certain group of users;
provide a guest access to the testing system;
create administrators, instructors, operators (for entering questions), regular users, and guests, and set their permissions accordingly;
automatically send out testing results to any group of users by email (there are different features for adjusting custom email templates);
automatically generate and put any data to reports/certificates about successful passing in PDF;
view/manage testing results for each user or group of users;
gather statistics from the answers to each question;
and more...
System requirements:
The iGiveTest system is developed in PHP 4 (PHP 5) programming language. The system depends on neither the operating system used on the Web-server, nor the type of the server. Only PHP 4.1.2 or higher versions are needed along with any widespread tool for database management (MySQL, MSSQL Server or Oracle).
The system is tested in the following operating systems:
GNU/Linux (RedHat, CentOS, Debian, Slackware, ...)
Windows 95 / 98 / NT / 2000 / XP / 2003 / 2008 / Vista / 7 / 8 / 10
Mac OS X 10.3 / 10.4 / 10.5 / 10.6 / 10.7 / 10.8 / 10.9 / 10.10 / 10.11 / 10.12
FreeBSD 4 / 5 / 8 / 9 / 10 / 11
Solaris 8 / 9 / 10 / 11
These operating systems have been tested successfully with iGiveTest. Other operating systems should work equally smooth.
The system supports most of the database management tools:
MySQL 3.22.32 and higher
MSSQL Server 2000 and higher
Oracle 8 and higher
For managing and working with an iGiveTest website, a browser of any type can be used. If you want to use the additional features of the HTML editor, you would need Internet Explorer 5.5 (or higher), FireFox 1.0 (or higher), Google Chrome 2.0 (or higher), or Mozilla 1.3 (or higher) to ensure proper work of the editor.
Setup and configuration:
You could use iGiveTest wizard utility to easily install and configure iGiveTest software. Moreover, we will be glad to setup iGiveTest software on your website at absolutely no charge.
Development of any custom-built extras and modules for iGiveTest
We provide professional and rather inexpensive services of custom development. We will be happy to develop practically any kind of updates, as well as additional plug-ins for the iGiveTest system.
We also provide services of development and integration of the iGiveTest system design with your website design. It is also possible to organize iGiveTest's interaction with any program solutions of third-party firms.
Please, contact us and we will be happy to estimate the cost of the service for you for free.
Web-hosting service:
We also can provide space at our high-speed servers for web-hosting of your tests. In this case you will not even have to install and adjust anything, since we will adjust the system at our servers for you, and give you full access for beginning working with the system.